Back on the 10-ton bike, I cross over the freeway on Kelbaker Road and reenter Mojave National Preserve. Phew, suddenly it's nice and quiet again, away from the freeway madness. But I'm still not sure exactly where I'm going.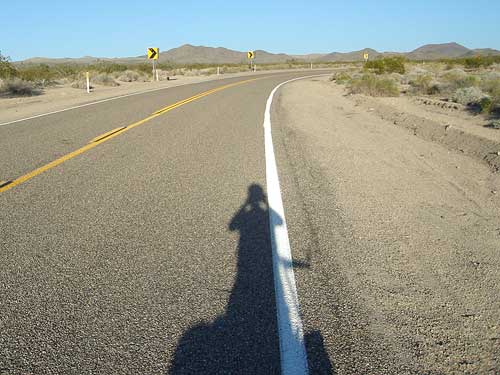 The big curve at the 10-mile point along Kelbaker Road
I begin the seven-mile-per-hour trudge up Kelbaker Road in the 100-degree heat, repeating my route into the Preserve eight days ago when I began this trip. It will be at least 10 miles until I reach areas where camping might be appealing.
A half-mile past the freeway crossing, I pass a minivan that pulled off the pavement too far and apparently got stuck in the sand. The driver is standing by the road talking on her cell phone, probably ordering a tow truck. If her location were further in the Preserve away from the freeway, where she might actually be stranded and without phone access, I would stop to see if I could help.
After a couple more miles, I realize that my full tummy is slowing me down a little. Maybe I should be sitting in a plush sofa instead. I drift along up the road with a sense of satisfaction that I've accomplished the big goal for the day—the ride from Tecopa Hot Springs to Baker.
12 miles up the slow Kelbaker Road trudge, I pass near Indian Springs Road
But it's not over yet. First of all, the long shadows and the golden sunlight of these last hours before a desert sunset are always most enjoyable.
I reach that ten-mile mark where Kelbaker Road turns right and there's a nice campsite to my left, just inside a wilderness area. I camped there during both of my previous trips out here, so I continue onward, not wanting to repeat the past more than necessary.
Since leaving Baker, time has been a slowly melting blur. Only a few cars have passed and the sun is getting lower. Part of me feels like I will just keep pedalling on uncontrollably forever, but I know that's not true. I want to stop somewhere and set up my tent while there's still some sunlight left.
After another mile and a half, I pass a sandy dirt road that leads off to my right to Seventeenmile Point, where there is a campsite, about two miles away. But I'm feeling lazy right now and wondering if I'd end up walking most of that distance.
Do not set up camp immediately next to the old lava flow where rocks occasionally come down!
A little further, around the 12-mile mark on Kelbaker Road, I'm watching for the three-mile-long dirt road to Indian Springs, another location that I've been wanting to visit but haven't yet. This would be the perfect occasion to go there, but I probably wouldn't have enough time and energy to make it there before sunset up the slow, sandy road.
So I keep riding, sticking to the easy, predictable pavement. I love this part of Kelbaker Road where it slowly approaches the edge of the lava flows. Yes, this will be the place! I decide that I'll camp out in that area just before Willow Wash where I stopped and took photos on the first day of the trip.
Around the bend, up a little hill and, presto, I'm there! I pull in to the wash between the two hills and ride as far back from Kelbaker Road as possible. I don't really like the idea of camping so close to the road where it's easy for any passing car to pull in, but this is something I'll have to live with tonight!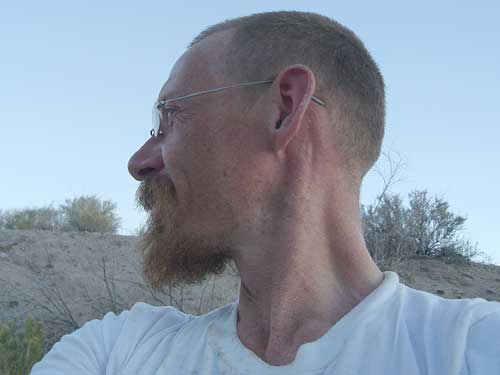 I need a shower! For now, I'll just have to wipe the sticky salt and sweat residue off my face, ears and neck
As I walk around trying to choose the precise spot for my tent, I realize that I should not set up camp too close to the old lava flow. Piles of rocks here and there indicate that do rocks occasionally fall down from there every now and then.
I set up my tent quickly and I'm home now. It's almost sunset and all is quiet. With the day's work done, the peculiar beauty of the Mojave Desert inspires me again in the rocky surroundings.
Unfortunately, the beer that I bought in Baker is not really cold any more, but it's still more refreshing than my warm drinking water.
I sit outside the tent briefly, but too many flies are finding the sweat, salt and sunscreen of my body to be irresistibly tasty. So I crawl into my tent and hide, watching the sunlight disappear from inside instead, while writing notes in my journal, sipping on beer and puffing on a pipe.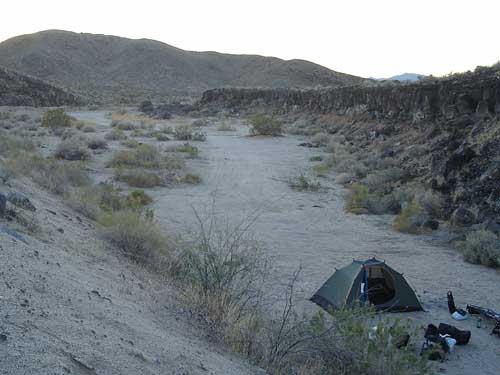 Home for the night is set up by the lava flow
The sun long gone, I step outside to urinate. I pause to mindlessly enjoy the black skies with its many stars. Still no moon tonight. And the silence of it all.
Well, not quite... there are lots of crickets out tonight, which I didn't expect in this spot. They are trying to sing me to sleep. Once I get back into my tent, they succeed.