If I were in a motor vehicle, I would probably have the time to pull in here at the Salt Creek Hills ACEC and take a break.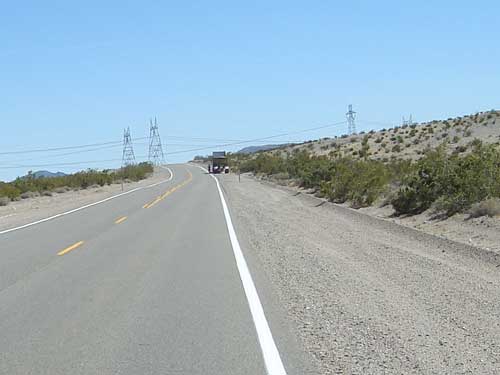 Approaching the power lines that cross Highway 127 some ten miles north of Baker; a big rig has stopped for some reason or other
Then again, probably not. In a car, I'd be able to cover more distance in a day, so I likely would have compensated by designing a route that still wouldn't allow too much extra time for stopping at unplanned destinations!
Another reason for my not stopping much (except for brief photo breaks) is that I've been enjoying the ride today so much that I don't want to break the momentum that I've built up.
Of course, the short downhill past the Salt Creek ACEC must end like all others, and I find myself at the bottom of another valley. Highway 127 now crosses flatter and less dramatic areas, more like what I was expecting for the entire ride.
Nonetheless, parts of the Kingston Range are off to my left in the distance, and other hills to the right. There are always interesting shapes and textures to look at here.
The road to Silver Dry Lake off Highway 127 some miles north of Baker
After a short while, a new uphill trudge to get out of the valley begins. Nothing difficult, just slow.
I stare at the horizon, sipping on the sickeningly hot water in my camelbak, watching for a row of power lines to sprout up. I know that when I finally reach those power lines, which I can't see yet, that I'll be about ten miles outside of Baker.
The power lines do eventually appear on the horizon and I watch them grow slowly. They keep getting taller, and I finally reach them. I take photos of the maintenance roads that run along the power lines in case I decide to ride on them in the future.
Little by little, I get closer to Baker. The Hollow Hills Wilderness Area encompasses the mountains to my left, and the flat Silver Dry Lake area is to my right.
If Baker were my final destination of the day, I'd take the time right now to ride over to Silver Dry Lake to see what ruins are there.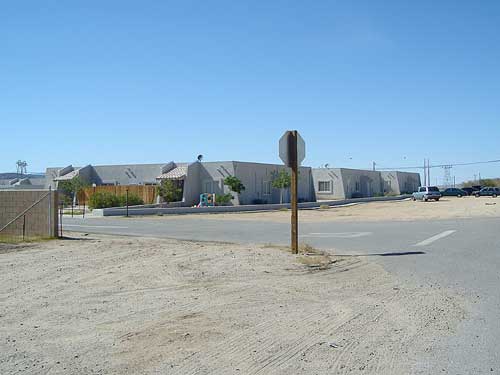 Housing complex along Highway 127 on the north side of Baker
Instead, I keep pedalling.
Baker finally comes into view off in the distance and gets closer and closer. Finally, I'm there and ready for a big beef fajitas meal at Los Dos Toritos. Simple home-style Mexican food with big portions, which I need right now. And freshly squeezed orange juice. Delicious and satisfying, and I am happy that I am able to forego the glitz and noise of the Mad Greek restaurant just across the street.