Before stepping into Los Dos Toritos, I stand outside for a few minutes to "cool down" in the hope that I might stop sweating. Wishful thinking! I'm very hot and almost dripping wet.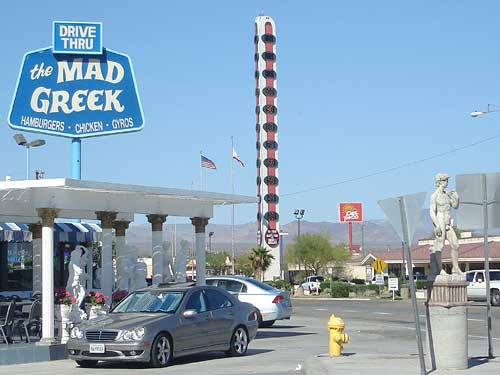 "The world's tallest thermometer" in Baker, across the road from The Mad Greek, boasts a temperature of 103 degrees Fahrenheit
The dry parts of my white t-shirt are sweat-stained, hard and crusty from the mineral deposits exuded onto it by my body during today's ride. I feel like Grimshaw Dry Lake behind my campsite at Tecopa Hot Springs last night.
Just before entering the restaurant, I glance up the road at "the world's tallest thermometer" down the road and see that it is registering 100°F. No wonder I feel so hot!
Could the thermometer be overreacting a little? I think it was exaggerating by a few degrees when I was last here a little over a week ago. Regardless, I don't usually do long strenous rides once it gets this hot, so I am surprised by my endurance.
I walk up to the counter in the restaurant and place my order. The cashier gets me to pay for my meal right away, rather waiting until than after I eat—perhaps because I look so hot and ragged!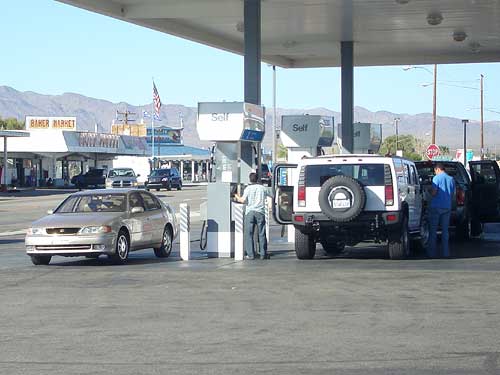 An expensive Hummer gets filled up with expensive gas in Baker, across the road from Los Dos Toritos
I've been drinking water all day long, but I think I still didn't drink enough. I devour a very tall cup of ice water and a very tall cup of freshly squeezed orange juice abnormally quickly.
The beef fajitas meal is delicious and I pour salsa on it for extra spiciness. Under more normal conditions, I would probably find the big portion of meat too large, and the portion of rice too small, but somehow the extra protein feels right today.
When I step outside after my meal, it occurs to me that the restaurant was air-conditioned, though I hadn't noticed it much when I entered. The hot breeze reminds me of the hotter days of the year back home in San José.
My tummy fat after the meal, it's time to think about dessert. I ride across the road to buy more water and pick up a couple of bottles of cold beer (today I don't want any of your expensive gas, thankyouverymuch).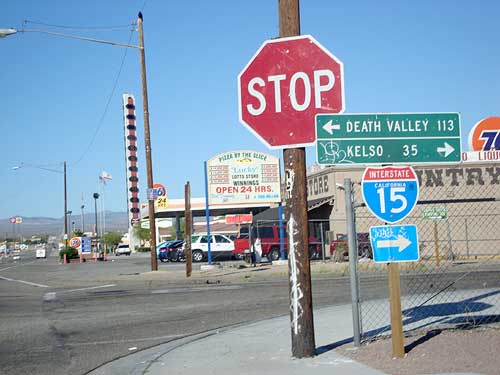 Leaving Baker, I head toward Kelso again, though I won't be going all the way there this evening
Beer seems like a really good and refreshing idea right now, but I wonder if it will stay cold for a couple hours in the blazing heat while I pedal on into Mojave National Preserve looking for a campsite.
Friday afternoon in Baker is really busy with rush hour traffic on the way to places like Los Angeles or Las Vegas. I'm glad to pull away from the crowded gas station.