I wake up refreshed. It was a cool night and I slept with my sweat pants on inside the sleeping bag. Fortunately, it didn't become downright cold like it did a few nights back at Mid Hills campground.
One of the roads that one can take to connect to the area of Aiken Mine; in 18 miles or so via Aiken Mine Road, one ends up at Kelbaker Road
After boiling water and making instant miso soup, I start munching on granola, nuts and dried apricots, as per my habit these mornings. I'm startled to see two people walking up the dirt road behind me, whom I hadn't heard approaching.
A brief conversation reveals that they're the folks who drove past here as I was about to set up camp last night. They ended up camping out at another site a little further down the road. I didn't realize that there's another site further down the road.
Now they're on their way to hike the Teutonia Peak Trail and joke about how they need the exercise, being lazier than I, since they didn't arrive here by bicycle. I joke back and point out that I'd like to do that day hike too, but having arrived by bicycle, I feel too lazy to do it.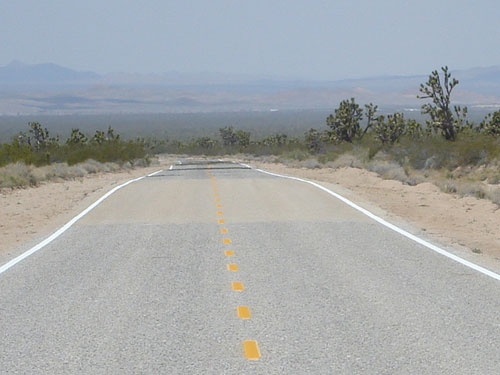 Further down Cima Road with Interstate 15 just barely visible off in the distance
I pack up and am excited about today's ride through the area north of here that I haven't visited before, perhaps ending up at Tecopa Hot Springs, some 60 miles away. I'll begin with a nice eight-mile downhill from the top of Cima Dome to Interstate 15, a 1300-foot drop.
I don't know if I'll make it to Tecopa Hot Springs today for sure, but there are several interesting camping options along the way. So I don't care too much if I make it in one day, provided that I have enough water.
Soaring down Cima Road, I watch the joshua-tree forest slowly thin out. It gradually metamorphoses into creosote-bush scrub as I glide across the lower elevations.
I reach the gas station at the junction of Cima Road and I-15 in what seems like no time, though I think it took me 30-45 minutes to get here.