I wake up at 8h feeling like I have a hangover because I slept too deeply last night. It took me forever to get to sleep, and now I can't get up. I'm laying in the tent half-dead, hoping to fall back asleep. But I don't. Another hour passes.
Patches of verbena flowers dot a hillside at Mid Hills campground
Today is my day off. I'm going to stay camped out here for another night and go for a ride this afternoon down to Hole-in-the-Wall campground and back without all the camping gear on my bike. I will feel as free and light as a product being advertised.
I finally get out of the sleeping bag and crawl out of the tent. My main motivation to get up is because I have to urinate. I'm tired, but I'm not as sore as I was expecting from all the heavy power-steering work in sandy roads yesterday.
I lazily get around to eating breakfast. It's a beautiful sunny morning, but the wind is cold, so I keep my sweat pants and sweater on for a while. The heat of the sunshine soaking through my clothing feels great. This feels strange because just 24 hours ago, I was on the verge of overheating wearing a t-shirt and short pants during breakfast by Kelso Dunes.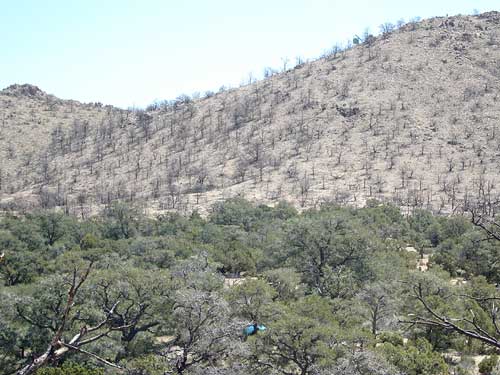 My tent (the small blue blotch in the foreground) is in an area that did not burn in last summer's brush fires, while the hills in the background are completely burned
The leftover soup that Bonnie gave me last night has been sitting on the picnic table overnight, in a bowl wrapped up in a plastic bag, refrigerated by nature. I'm surprised that it's still intact and didn't get discovered and eaten by any critters during the dark hours. I make a breakfast soup out of the leftovers and my instant miso soup mix.
The hot soup is so comforting in the cold air. But it's not filling, so I eat handfuls of granola, and then spicy chili-lime cashews. Mmm. I could eat more, but I think I'm full enough for the time being.
The gang of bicyclists over at the next campsite have packed up and are on the way out of the campground. They stop by to donate a box of firewood that they didn't use. Actually, they took this wood from my then-unoccupied campsite when they arrived a few days ago, so I guess it's back where it belongs!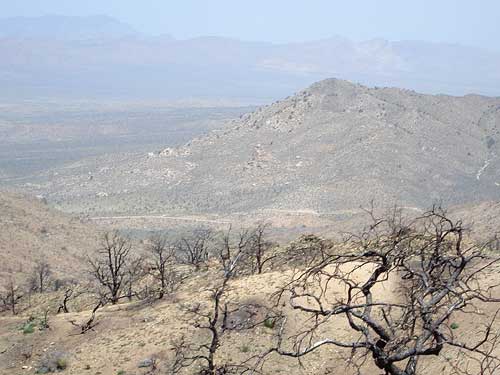 Cedar Canyon Road—the route I took to get up here—is visible down below in this view from a high point in Mid Hills campground
I go for a walk down the road through the campground. The two guys who arrived late at the next campsite have already packed-up and left. A little beyond, I stop to look at all the striking little verbena flowers everywhere. I climb the big hill there where there are quite a few more.
This area is partly burned, partly intact. The verbenas seem to like these burned areas. There aren't any growing at my campsite at all.
It's not just the pine and juniper trees that burned. Some of the cacti around here are a strange sight because they didn't burn all that well—many of them look more BBQed than burned. I'm not sure that all these burned plants are dead.
Those who have the privilege of living in this area will get to see which plants sprout back and which ones do not. Brush fires are quite rare out here and therefore haven't been studied extensively in the recent past.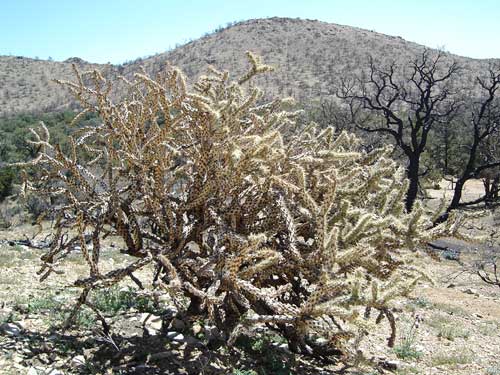 This cholla cactus at Mid Hills campground was scorched on the underside by last summer's brush fires, but appears mostly healthy otherwise
The views from the top of this hill are quite spectacular. This is my third time camping here at Mid Hills campground, but it's the first time that I've stumbled across this particular view. Part of the reason for this is because I tend to not hike around all that much during these bike trips.
Down below, I can see parts of Cedar Canyon Road where I rode yesterday on the way up here. It looks further away than it really is and leaves me asking myself, "Did I really ride all the way from down there to up here?"
I walk back down the hill to the road. On my way back to the campsite, I fill up a couple of my water bottles at the pump tap near the outhouse.