Year 2006, my third bicycle-camping trip in Mojave National Preserve and surrounding areas. I spent two weeks in the area this time. (My Spring 2010 Mojave National Preserve Bicycle-Camping trip is now on-line.)
My two previous bike-camping trips, in 1999 and 2000, were both in early November, after the conclusion of the October hunting season (I'd rather not be hunted accidentally).
This year, I decided to try late April. This is cutting it close because it's starting to warm up then at the lower elevations.
This year, I also ventured some 60 miles north of Mojave National Preserve to Tecopa Hot Springs and Shoshone, on the edge of Death Valley National Park.
I don't travel a lot, but this area keeps drawing me back with its opportunities for solitude and interesting landscapes.
Spending time in the Mojave Desert can sometimes be like sitting on a beach staring out at the sea. There's really not much out there, but the vastness of often-inaccessible vistas can be so appealing.
Another place in California, much closer to home, where I like to do bicycle camping is Henry Coe State Park, just south of San José.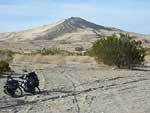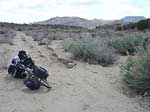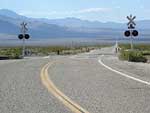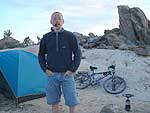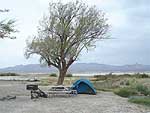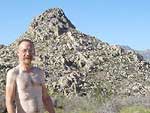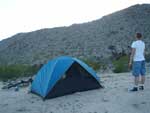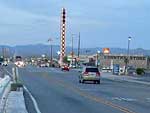 Getting the 10-ton bike ready
The folks at Old Man Mountain gave a me a special deal on a new rear rack to replace my old one that was still good, but showing signs of wear after 30000 miles and numerous camping trips and grocery hauls.
Old Man Mountain makes excellent mountain bike racks and I use one of their front racks as well on longer trips like this.
Bicycle Express in San José, California did a full overhaul of my five-year-old Trek 8000 mountain bike. I added tough Serfas Vermin tires and "Slime"-filled inner tubes.
I lucked out and didn't have a single flat tire during the trip's 450 miles over two weeks.