I wake up in my cell at the Bun Boy Motel, almost tasting the horrible cherry air-freshener in the room, wherever it is. I will definitely choose a different motel for the last night of my trip when I come back to Baker almost two weeks from now.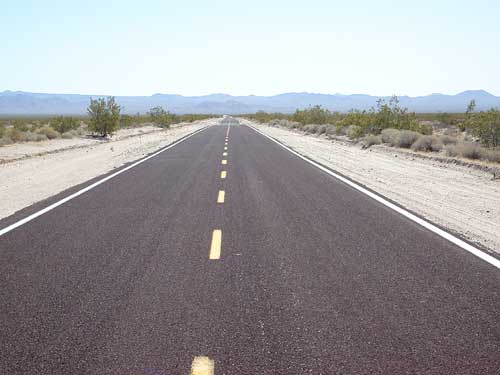 Out of Baker and now in Mojave National Preserve on Kelbaker Road
I start the day at a leisurely pace by walking over to the Bun Boy Restaurant for a big vegetable-omelet breakfast. Back in the days when I used to cook most of my own food, I ate a lot of satisfying meals that resembled this. After my big meaty meal last night at the Mad Greek, the idea of a breakfast with meat just isn't very appealing right now!
I vacate the motel room and ride away across the parking lot and down the street to the intersection of Kelbaker Road. I cross the freeway on the overpass and the excitement begins (elevation 923 feet).
This is my third bicycle trip out here starting at Baker, and there's something magical about this moment each time. Once on the other side of the freeway and entering the wide expanse of Mojave National Preserve, the hustle and bustle of Baker's freeway culture evaporates.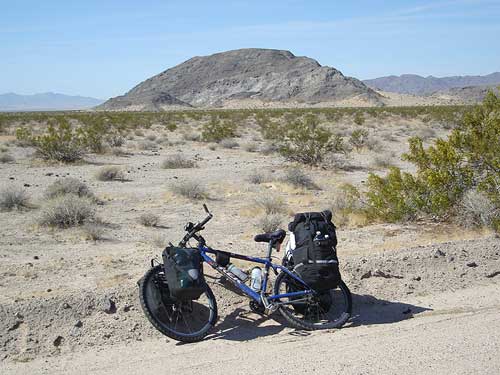 A little mountain outside Baker just off Kelbaker Road
The 10-ton bike is definitely awkward to maneuver, but I feel like I'm stronger than was when I was last here five years ago. I've pedaled about 30000 miles since then, so maybe that has something to do with it. I remember how unbelievably unwieldy I found my heavy bike the first time I came here in 1999. I'm not feeling that kind of shock today. Perhaps the positive feeling is just that I'm riding a better bike this time. Or maybe I'm just excited and immune.
After the first curve on the road just outside Baker, I can see most of the ten miles of road ahead me before it reaches the first big curve. It looks flat, but it's actually a slight uphill and I'm pedalling along quite slowly. I do have the wind behind me, and this feels good.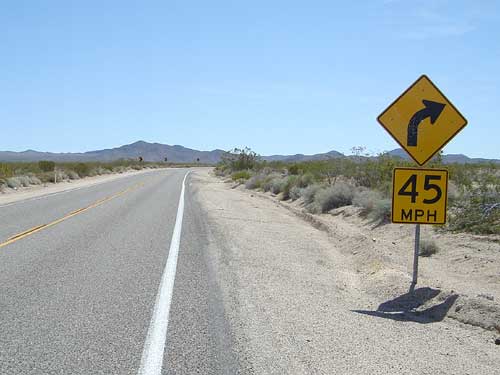 The big curve on Kelbaker Road about 10 miles outside Baker
I've ridden here on Kelbaker Road a few times now, so this is familiar territory to me. There are almost no cars on this road, so I'm getting to hear some of that desert silence. I'm really enjoying the sensation of being surrounded by so much wide open space, blue skies and sunshine, so much that I don't feel like breaking the distraction by stopping to take photos.
Wow, what is this? A bicycle is coming down the road toward me. I almost never see other bicyclists when I'm out here. I wave and so does he, but he doesn't stop. He has several water bottles tied to his backpack, but isn't carrying a lot of gear like I am. I figure he's either doing a fairly minimal road tour, or he lives out here somewhere. Perhaps he'll meet up with someone in a car who's carrying supplies for him somewhere later in the day.
Here I am approaching the big curve in the road some ten miles outside Baker—elevation 2000 feet. This is a marker of sorts on the ride, and the next distinct stage of today's ride begins.