I continue along Excelsior Mine Road past the Kingston Road intersection. The high peaks of the Kingston Range on my distant left are becoming more visible now despite the light haze of today's heat.
Excelsior Mine Road slowly approaches the Kingston Range; North Mesquite Mountains Wilderness Area is to my right
The pavement on Excelsior Mine Road is old and dull—the yellow stripe in the centre of the road has disappeared. This road looks different from most I've seen out here because it has no dirt shoulder at all. Here, the vegetation grows right up to the edge of the pavement on both sides of the road.
The road slowly begins to rise toward the Kingston Range, and I expect this to continue for many more miles this afternoon.
The wind seems to be behind me now, coming from the south, so it doesn't feel like an endless uphill trudge, at least not yet. I'm really enjoying the views of the Kingston Range slowly getting closer through the light haze.
A sequence of three oncoming cars passes me, taking me by surprise since I've seen so few cars after crossing the Interstate. None of them waves, so I conclude they aren't serious desert campers.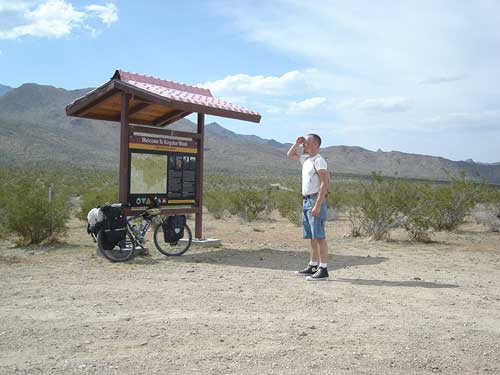 Entrance kiosk at Kingston Wash Road, which cuts through the Kingston Range Wilderness Area
The miles travelled are adding up slowly and I keep rising gradually. It's time to turn around to see how much I've risen.
That junction of Kingston Road that I crossed a while ago already looks a bit "down there." Though the sun is hot, there's a bit of coolness in the breeze, which makes it refreshing to just stand here and take in the views.
I reach a mini-summit on the road, and suddenly, the coolness in the breeze completely disappears. Oh well, so much for that cool breeze—now this qualifies as a hot, still day.
I pass signs to my right marking the North Mesquite Mountains Wilderness Area, another possible camping destination if I decide that I want or need to stop. There's nothing and nobody out here.
Perhaps a mile later, I find myself passing the entrance to Kingston Wash, an old route that passes through the Kingston Range Wilderness Area.
Entrance sign at Kingston Wash Road off Excelsior Mine Road: the fine print reads "Wilderness travel limited to foot or horse"
The entrance kiosk here seems to be quite new. There's a surrealness to finding something brand-new out here where there's no one around except me, the 10-ton bike, and lots of silence.
It feels like hardly anyone ever comes here, but there are tire tracks on the dirt Kingston Wash Road to tell me that some people do come here.
It's also a bit surreal to come across an object out here that produces shade.
I stop to take photos.
I'd like to explore this Kingston Wash Road some day.