The first six miles on Highway 127 will be a slow uphill trudge out of the Tecopa Basin toward Ibex Pass, climbing about 750 feet in the process.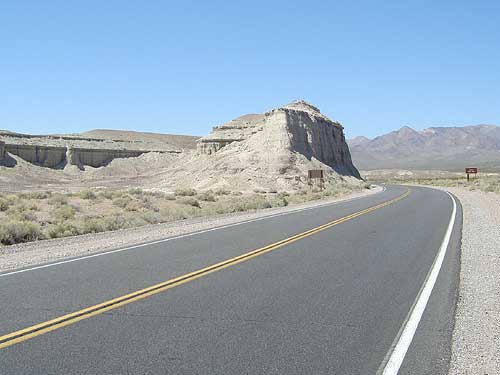 Interesting pinnacle formation along Highway 127 on the way from Tecopa to Ibex Pass
The first mile or two are quite scenic as the road passes a few pinnacle formations, but the road soon rises out of the Tecopa basin for good.
I'm sweating and the sun is already hot. The water in my camelbak, which I've been sipping often, is also already quite warm. Yuck.
For encouragement, I stop and turn around occasionally to take in the distant views back down toward Tecopa because they get better and better as I slowly rise.
Yesterday's light bike ride seems to have helped me recuperate my energy as I don't feel tired at all, even though I got up earlier than usual.
Well, I've reached the summit of Highway 127 at Ibex Pass. This point is clearly marked as the boundary between San Bernardino County and Inyo County.
Looks like it will be seven miles of downhill after Ibex Pass
The climb to get up here to 2090 feet wasn't all that difficult, so I'm surprised to see signs alerting me of steep downhill grades ahead.
Baker, still 40-some miles away, sits at 923 feet, which isn't a huge drop from here in terms of elevation. So I was expecting to encounter a more gradual downhill from this point.
What I hadn't observed while studying my maps is that the highway drops to around 420 feet near the Dumont Dunes, eight miles away, and then slowly rises to Baker's 923 feet during the miles that follow.
Of course, I'm happy that this is going to be a bit steeper than I thought—since I'm headed downhill.