A heavy weather system is passing through and I watch my my tent sway freely in the wind. It's not staked down because I doubt that would help due to the rocky, sandy soil. But I've left lots of stuff inside, hoping that will keep the tent from blowing away.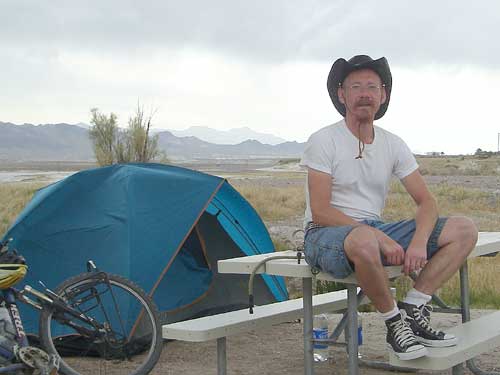 My tent flutters in the wind
If this wind continues tomorrow during my 50-mile ride back to Baker along Highway 127, it will be a long and brutal ride. I dread the thought, and have already wondered if the highway might be downright unpleasant due to the many big trucks that use that road.
One of the nice things about being in an official campground like this, rather than camping out in the wild, is that there are usually picnic tables to use. The picnic table here has become my living room.
The skies are murky and mostly dark now, with the sun peering through here and there. The way it looks, thunderstorms or a tornado could pass through here at any moment. Fortunately, tornadoes are rare here. As for thunderstorms...
I feel a few raindrops. Am I about to experience one of those brief but heavy summer thunderstorms that the desert is so well known for?
Sunset pokes through the clouds behind me, lighting up the grey skies in front of me
Desert thunderstorms are the reason why so many roads out here have "subject to flash floods" signs, and why camping in a wash out here is ill-advised if there is any chance whatsoever of rainfall.
I love my picnic table. There's almost no one at the campground right now, except for an Asian family way over on the other side who doesn't appear to have left their trailer all day.
I sit here alone and a couple of hours pass effortlessly. The clouds move around, changing the skies' appearance, and I feel the need to take photos of them every now and then. The clouds are what matters right now. The sun is slowly starting to go down.
The wind is still heavy and my tent is still swaying. I enjoy watching the motion, like a city dweller looking down at people walking on the sidewalk from a third-storey window. Or someone watching the late-night news on TV.
Bright sunlight punches through dark clouds
I'm catching up slowly on some of my journal writing, which is still about a day in arrears.
The evening wind brings some coolness and I put on my sweater to stay comfortable, but stay in short pants.
As the closure of darkness approaches, I bring out my little flashlight lantern so I can keep writing.
It's time to uncork that bottle of wine I bought earlier, and light up a pipe, soothed by the babbling of the drainage brook behind me.
After an hour or so, I decide that there are too many bugs attracted to me and my lantern light, so I retreat to my tent to continue.
The tent surrounds me with whipping, flapping sounds in the strong winds, but they suddenly subside after a while, and I can hear the brook again.
I try to catch up on my journal writing as the wind subsides a little and the sun begins to set
I'm lazy but a bit hungry. In lieu of a meal, I munch on a lot of beef and turkey jerky and spicy lime cashews.
I hear a solitary car camper pull in and take a campsite nearby. He's quiet.
The evening progresses and I eventually get tired of writing notes in my journal. I'm still a day behind! Just as I'm about to doze off, two motorcyclists pull in and take another site further down along the dry lake. They too are quiet, so I enter sleep easily.