I step inside the Crowbar Café and order a hamburger and french fries because I was told that they are homemade and tasty here.
View of "main street" from a dining table at the Crowbar Café in Shoshone, California
There's too much air conditioning inside, so I move to one of the tables outside in front of the restaurant as soon as the people eating there leave. Now I'm facing the road and can watch the human traffic pass by.
Shoshone is a very small town (population 100), but it has more of a touristy feeling to it than most places I've passed through recently.
Unlike Tecopa Hot Springs, my initial impression is that there is no community here, though I'm sure that's not true. It's just that what I notice first is that this feels like a rest stop for people passing on their way to Death Valley National Park nearby. And with a restaurant and gas station in town, who could possibly resist stopping in!
It's amazing how much meat I've eaten on this trip, for someone like me who rarely cooks animal products at home.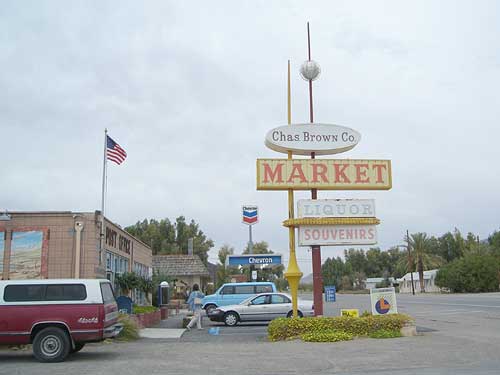 The Chevron gas-station market in Shoshone has an old 60s' style sign out front
The big hamburger arrives at my table contaminated by a pickle, which the menu did not disclose—I specifically avoided ordering any of the burgers on the menu that includes a pickle. I pluck off the pickle as soon as I notice it, like a fly floating in a bowl of soup. Hopefully, not enough pickle juices seeped into my meal that I will taste it.
Also, my burger was supposed to have alfalfa sprouts on it (one of the reasons that I ordered it), but it is dressed with boring iceberg lettuce instead. Bla. It's all still good, but nothing to crave the next day like the super-juicy homemade burger I had at Nipton.
The french fries here are seasoned with something like BBQ spice, which tastes really good. As I'm finishing them and contemplating ordering a second round for the extra carbohydrate boost, I realize that I've eaten enough salt in this meal for the whole day and I don't want more of any of this either.
Neato geological formation along Highway 127 between Tecopa Hot Springs and Shoshone
My meal is leisurely and relaxing. When I finally finish, I visit the gas-station store across the road and withdraw some cash from the ATM. I browse the store's contents and end up buying an overpriced wide-brim black straw cowboy hat (I need some shade when I don't have my bicycle helmet on) and a bottle of cabernet sauvignon that I simply couldn't refuse. Ooo, a bottle of wine back at my campsite under the night desert skies by the dry lake!
Outside, I pack the bottle of wine in my saddlebags. With no more customers in the store, the cashier steps outside for a moment to make sure I tightly tie my new hat on to my bike. She had catchy 1960s' Motown music playing on the radio inside and it is already stuck in my head and will probably repeat in my head throughout the rest of the day, or maybe much longer.
We'll see.