I start riding the powerline road, and it's not bad at all. This is often the case with the powerline and pipeline roads out here. They are kept in somewhat better condition than most back roads because maintenance vehicles need to drive on them.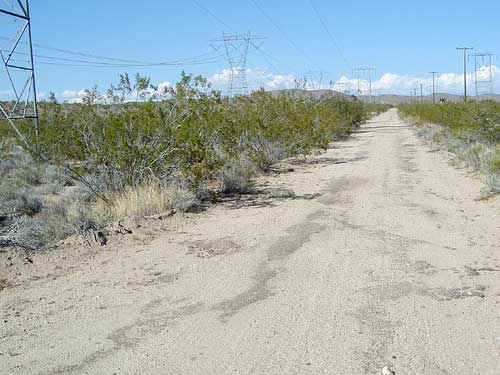 Residual pavement on the powerline road; I wonder how long ago it was last paved
The road is rough of course, but there is some residual old pavement in places that provides plenty of traction and makes bike-riding quite feasible. I was hoping to ride the powerline road that passes through the Bristol Mountains during this trip, but didn't get to it. This road will be a good substitute.
No other vehicles back here of course—just me. The road passes over a gentle ridge and descends slowly into a valley.
I pull over and open one of my maps. Even though I just rode downhill a bit, my map shows that I'll climb to about 4400 feet, 600 feet up from the start of the road where it crosses Kelbaker Road.
I should reach the old Mojave Road in about six miles and then Marl Springs will be just a mile or so from there.
I rise onward up the road and reach the summit of the road. But this summit isn't the summit. Hmmm...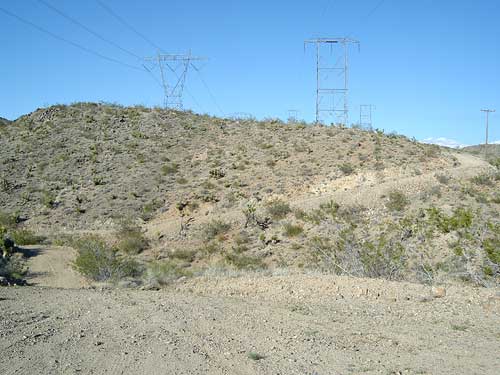 Up in the Marl Mountains, the powerline road winds around the hills
These powerline roads often do funny things. Sometimes, they cut straight across hilly landscapes without regard to the natural terrain, resulting in steep roller-coaster roads.
I distinctly remember the incredibly steep ups and downs of the powerline road from Foshay Pass to Kelbaker Road during my last trip out here five years ago, where I had to walk both up and down several of the hills.
I realize that this road is going to be a bit like that. How much, I don't know yet, but it doesn't look too crazy yet. I'll inevitably need to walk a bit, but I should still make it to Marl Springs before sunset. I'm only a few miles away.
A big down followed by a big up, and then down again and up again, which took 20-30 minutes—I'm not counting. Cool, I've made it this far!
Up in the Marl Mountains, the powerline road is down and up
The downs were fun to speed down and fortunately, weren't too steep to ride. The two ups would have been ridable if I didn't have the extra weight of camping gear and water. But I had to walk. Riding (and walking) through these secluded gulleys in the mountain range is an intimate experience.
I haven't reached a vantage point yet from where I can see where this might end. I check two of my maps, but neither of them shows the topography in fine enough detail to show the short ups and downs along the road. They tell me that I'm in the middle of the Marl Mountains somewhere, but I already know that.
A twinge of paranoia sets in. Should I turn back to Kelbaker Road to find a camping spot that's easier to get to? But then I'd have to go up and down over those two big lumps again that I just crossed... I might as well just continue and use my energy to go forward, rather than backward.
Wondering if this might be the last uphill on the powerline road through the Marl Mountains; one of these hills will be the last one!
It's reassuring to know that I still have power in the rechargeable battery for my headlights in case the going gets really slow back here and I need them.
Another whoosh down the bumpy road into a gulley followed by dragging the bike up another hill.
Ah, there it is! Now I can see my powerline road stretching out before me across a broad expense into the distance, slowly climbing up a distant hill on the back side of Cima Dome.
I won't be continuing that far on this road today, but I enjoy contemplating the thought. If I were to keep going straight for another ten miles or so, I would meet up with the segment of the powerline road that I rode five days ago to get from Morning Star Mine Road to Cima Road.
The next point I need to watch for is the old Mojave Road. Mojave Road passes by Marl Springs and is the old road that was used to cross the desert back in the 1800s.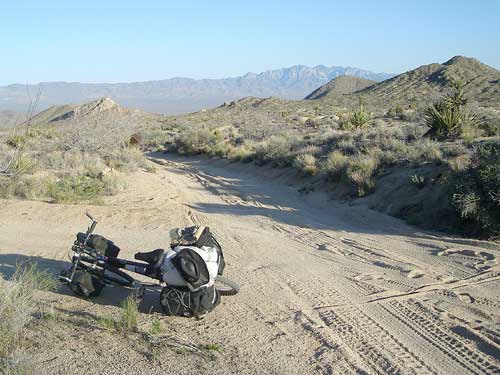 Looking east on the old Mojave Road from the junction of the powerline road; Marl Springs is just somewhere down the hill a bit
I'm not expecting any road signs back here, so I need to be on the look-out for anything that looks like it might be a road heading south (to my right).
The powerline road is slightly downhill again as it enters the valley here, so I'm able to ride it easily. So much fun, and what a great open landscape—there aren't many signs of people, other than the powerline.
After another half a mile or so, I see rock cairns by a junction with another two-tire-track road. I know I'm in the right place because rock cairns like these are used to mark the Mojave Road for backcountry travellers.