Once back at Cedar Canyon Road, I easily find the correct New York Mountains Road that the ranger had recommended.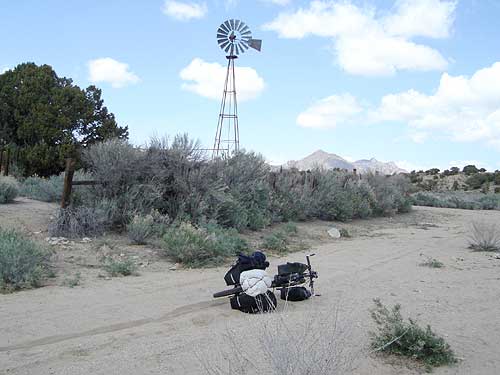 Abandoned corral and windmill on New York Mountains Road
The road rises out of the wash just like the ranger said. The rough surface of the faint road is ridable, but the road descends back into the wash again after a short while, and it's too sandy for me to ride there.
I get off and drag the bike through the wash area. There aren't many signs of human existence around here. However, the road, which almost vanishes in the wide wash, is approaching an old abandoned corral and windmill that really stand out in this environment.
I spend a little time walking around and exploring the remains here, wonder when they were last in service.
Will all this eventually just decompose on its own, or will someone someday make a conscious decision to actually remove these items from the landscape? If we wait long enough, the items might be deemed historic, if they aren't already.
The Aermotor Co, Chicago
The old water tanks are rusted out at the bottom and are stamped with "Made by Demmitt CO., L. A., Why pay more."
The windmill is well-marked as coming from the Aermotor Company in Chicago.