A new eternity is now beginning. Cedar Canyon Road is noticeably steeper than the Kelso-Cima Road that I just came up. Even though it doesn't really look like it is. I switch to lower gears. I'm inspired by my new view, staring straight up a road that appears to slam into the mountains ahead.
Looking back down to Kelso-Cima Road, a train is crossing the road; the old Mojave Road winds up the hill to the left toward the gentle curve on the horizon called Cima Dome
After just a half-mile of climbing up Cedar Canyon Road, I realize that I'm carrying more of yesterday's fatigue with me than I thought. Not that it really matters much, because this is a great place to be tired. And it doesn't matter how tired I am because I still have about 10 miles to go and about 1500 feet of elevation gain.
I stop and turn around to look down at how much I've risen and to take pleasure in the views behind me getting bigger. I'm just on the verge of being above everything now as I climb the foothills. I love looking at all the joshua trees up in this area.
The hot sun is showing its first signs of cooling down, even though sunset won't arrive for a couple more hours. For the first time today, I'm experiencing an occasional refreshing breeze.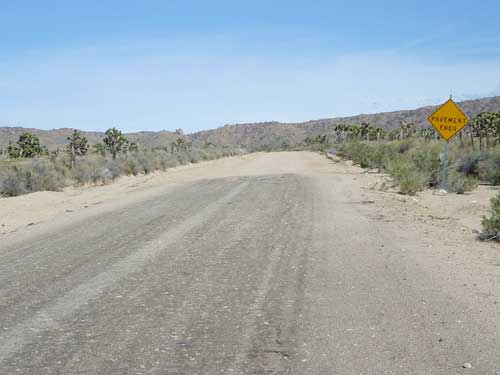 The pavement ends on Cedar Canyon Road, just like the sign says
The pavement on Cedar Canyon Road comes to an end, and it will be gravel-road riding for the rest of the way. I'm instantly slower. I haven't ridden on too much gravel yet during this trip and am not completely acclimated to it yet.
Here and there, the gravel on the road makes it difficult for me to maintain traction, but I plod, getting used to it. I start having flashbacks of my trip along here in 2000. Loaded up with gear, the front wheel is oh-so-heavy to steer. Arms getting tired. Legs getting tired. Still, I'm not nearly as tired as I was when I rode here back then!
The glorious views behind me disappear as the road ahead of me descends into a wash area. I'm in the mountains now, albeit the lower parts.
It's a blast to ride downhill briefly, but then it's quite a struggle to stay on the bike and ride through the churned-up sand and gravel of the road beyond. I keep trying to ride anyway, and I briefly become buoyant on each attempt, only to lose traction again shortly thereafter.
I decide that I might as well just walk my bike through the sandiest parts here, and I can see more of that ahead of me.
Cedar Canyon Road dips into a wash after rising over the foothills
With such a heavy bike, it's actually more demanding to walk than to ride. Walking means that the bike has to be dragged alongside me. Dragging the bike means that one hand needs to be on the handlebars, pushing forward, with the other hand gripping the rear of the saddle, pulling forward. This is "bikepacking" in its purest sense.
When is it worth trying to get on the bike to ride again? When dragging the bike starts to become easier!